Nashville Web Design
There's More To This Than Meets The Eye
So you're searching for a Nashville web design company. Question - do you need a website design (or redesigned) or do you need more business? Ultimately, which do you need more? Your website can not be just about what it can do for you, but first, what it can do for your target audience! Price is only ever an issue in the absence of value. The essence of business is finding value or creating value that is important to the prospect.
"Your success is connected to someone else's problem. Your opportunity to create value is attached to someone else's disappointment or frustration AND your ability to solve that problem. The size or difficulty of the problem you solve determines the reward you attract". ~ Tim Redmond
You'd never associate great website design with web sites like Craig's List. Yet why do people keep coming back to that site? Because a site's value is not solely determined by its web design.
Don't misunderstand. The website design process is an important contributing factor - its layout, fast loading, easy navigation etc, but the aesthetics is not what keeps prospects and clients coming back. It's what the website does for the prospect to meet their needs, help them thrive and survive. It exists ultimately to the benefit of your target audience. The business reaps the financial rewards as a byproduct of that demonstrated benefit. But the benefit of your offering is defined in your message, not exclusively in the design.
Surprisingly, owners understand this when the point is made, but still wonder why their website 'isn't working'. Could it be a Nashville web designer is not the only thing you need? This requires you to think and approach things differently.
While Nashville website designers are hands on once the scope of work is defined, a website design process that yields a greater return starts with a series of discovery meetings diving much deeper to reveal your true needs and opportunities before the design begins. This ultimately shapes who, where and how you approach your prospects, shaping your marketing message that resonates with the target audience.
Imagine discovering and addressing your underlying needs, issues and opportunities you didn't know about.
Increasing your value proposition that better aligns with your target audience as your web site is speaking their "lingo".
Create a "win-win" for you and your target audience with greater savings, profits, efficiency and service!
If you've worked with another Nashville web design company but you're unhappy with the results you're getting or not clear on the best approach for website design, then take advantage a more robust approach, based in the greater Nashville TN area. We also easily work with clients out of state. We've provided inbound-marketing to businesses in New Jersey, Boston area, Kentucky, Ohio, St. Louis MO to Texas and California, as well as companies in Nashville, Franklin, TN, Spring Hill, and La Vergne Tennessee.
Website Design Case Studies
Cooper,Travis & Company is a Nashville-based CPA Firm that has been in business since the 80s, providing tax solutions in the Southeastern United States for Commercial Construction & Real Estate. The Firm is very selective in who they work with and achieve growth primarily via client referrals.
The Firm had a 'canned' template site. So their primary concern was that they didn't feel they could use that to acquire new clients during initial consults with their prospects. Leveraging social proof turned that around. They also recognized the need to create a logo to associate with their company's brand, all of which needed to be mobile friendly for both prospects and clients and include web hosting services.
In addition to enabling their clients to pass referrals via the website, another discovery revealed the critical need for clients to be able to securely upload their tax documents via an encrypted portal.
Diving deeper to increase the site's value, the solution needed to provide resources to be used on a recurring basis so a Calendar for Tax Deadlines and resources section was created for their clients to refer to at their convenience.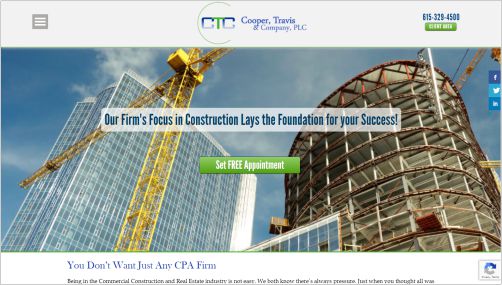 ---
Merchandising Services provides support for both suppliers and retailers of consumer products, placement and positioning of products, as well as, store support services that help improve market execution.
MSCO has expanded to the vast majority of the lower 48 states. Their growth is such that they are turning away some of the prospects and now focus on using the web site as a means of posting job opportunities to meet the demand and sync to a 3rd party solution that allows their employees out in the field to upload reports for their clients to see.
Big Picture Web Design also provides their web hosting.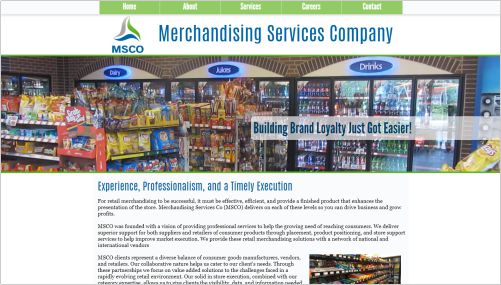 Website Design can be combined with:
Hands free web hosting. Big Picture Web Design manages the web hosting for you, the set-up, server maintenance and ongoing support!
Pick Plan
Eye catching Logos establish your brand! Creative design for print or web. Use this in conjunction with your website design or as a stand alone.
Stand Out
Leverage effective inbound marketing strategies positioning you for increased engagement! When you absolutely need Local Customers!
Be Found