Nashville Web Design
There's More To This Than Meets The Eye
So you are looking for a Nashville web design company. Do you need a website design or do you need more business? You might need both, but which one do you really need more? While you may be focused on what your website will do for your business, the first step is focusing on how it can help the people who see it. Your business web site is about demonstrating or creating value that's important to your target audience.
"Your success is connected to someone else's problem. Your opportunity to create value is attached to someone else's disappointment or frustration AND your ability to solve that problem. The size or difficulty of the problem you solve determines the reward you attract". ~ Tim Redmond
You would not think of websites like Craig's List as having great design. The design can effect how many people stay on the site, but it is not what keeps them coming back. Many people use websites like Craig's List because the website meets a need. That is why these sites are popular. Your business makes money as a byproduct of that demonstrated benefit and demand to meet the need or solve a problem. But the benefit you're offering is defined in your message, not exclusively in the design.
Most Nashville web designers will focus on appearance and ease of use based on your requirements. While that is important, web design companies that start with a series of discovery meetings would be better. These meetings help you figure out who, where and how you target and sell your services using your website and digital marketing. Your marketing message will connect better with your prospects.
So if you're still wondering why your website 'isn't working', could it be a Nashville web designer is not the only thing you need? This requires you to think and approach things differently.
Imagine discovering and addressing your underlying needs, issues and opportunities you didn't know about.
Increasing your value proposition that better aligns with your target audience as your web site is speaking their "lingo".
Create a "win-win" for you and your target audience with greater savings, profits, efficiency and service!
If you've worked with another Nashville web design company but you're not happy, then take advantage of a better approach, based in the greater Nashville TN area. We also easily work with clients out of state. We have provided inbound marketing to companies in New Jersey, Boston, Kentucky, Ohio, Missouri, Texas and California. We also do work for businesses in Tennessee like Nashville and Franklin.
Website Design Case Studies
Cooper,Travis & Company is a Nashville-based CPA Firm that has been in business since the 80s. They provide tax solutions for Commercial Construction & Real Estate in the Southeast. The Firm is very selective in who they work with and achieve growth primarily via client referrals.
The Firm had a website with an outdated template. This didn't help them get new clients when people came to the office to talk about their business. The Firm was worried because they could not use this template to show what they do. Now their new mobile-friendly site uses social proof to help them. They also needed logo design and hosting for their company. They recently added inbound marketing to boost their local presence.
We made it easy for their clients to pass referrals to the Firm on their website. Additionally, their clients can securely upload tax documents. We also added a calendar to show tax deadlines and have a resource section with blog posts and FAQs that clients can refer to.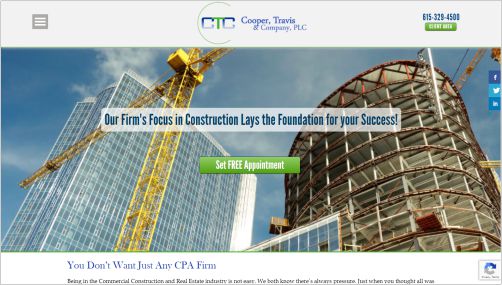 ---
Merchandising Services helps suppliers and retailers with placement, positioning of products, and store support services.
MSCO has expanded to the vast majority of the lower 48 states. Their growth is such that they are turning away some of the prospects. Now they're focused on using the website to post job openings. The website also uses a 3rd party solution that allows their employees to upload reports for their clients to see.
Big Picture Web Design also provides their web hosting.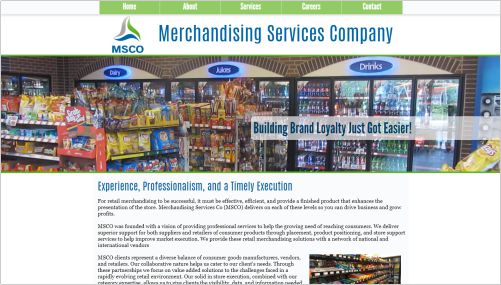 Website Design can be combined with:
If you have a website, you need to host it. We offer Hands-free web hosting! This means that we take care of these technical things for you.
Pick Plan
Eye catching Logos establish your brand! Creative logo design for print or web. Use this in conjunction with your website design or as a stand alone.
Stand Out
When you need to find local customers, use inbound marketing. This will help you get more people who are looking for your business.
Be Found