Nashville Web Design
There's More To This Than Meets The Eye
Get a Nashville web design company that doesn't do cookie cutter solutions. When you realize the limitations of the off-the-shelf options, both you, your prospects and customers will appreciate the benefits of a semi-custom or fully custom website. You can better tailor your website design to your needs by first considering the needs of those you want to do business with.
This means going beyond creating a brochure style website, but one that your audience can repeatedly benefit from by using it to solve their problems and meet their needs. Any Nashville web designers "worth their salt" should know to design a website that caters to what the market wants. Once your prospects see your unique value is aligned with their goals, you'll have their attention.
Many people search for answers to their problem or to meet their needs. Your business makes money as a byproduct of your demonstrated benefit. But the benefit you're offering is defined in your message, not exclusively in the website design.
"Your success is connected to someone else's problem. Your opportunity to create value is attached to someone else's disappointment or frustration AND your ability to solve that problem. The size or difficulty of the problem you solve determines the reward you attract". ~ Tim Redmond
Leverage an innovated and authentic approach to web design in Nashville for local service-based businesses. Get a data-driven approach to increase engagement. As a result, your website will already be viewed as helpful to your prospects. Website design can effect how many people stay on the site, but it's not what keeps them coming back.
Most web design in Nashville focuses on appearance and ease of use based largely on your stated requirements. Known as scope of work. While that is important, you'd be hard pressed to find a Tennessee web design company do an in-depth discovery process that examines both you and your prospects challenges, goals, and opportunities to learn what will help you succeed online.
You want web designers that take the time to find out not only about your business, but your customer segments, market, competition and possible strategies and tactics. We want to deliver the best possible solution for you and your audience - using your website and inbound marketing. These findings shape everything including your marketing message. Gathering this information is the precursor to the design and development.
Your typical Nashville web designer is not going to go to these lengths just doing scope of work. This may explain why many small business websites "don't work". Only one viewpoint was considered, but it most likely wasn't the customer, but rather the owner made assumptions about their customer's views. This requires you to think and approach things differently.
Imagine discovering and addressing your underlying needs, issues and opportunities you didn't know about.
Increasing your value proposition that better aligns with your target audience as your website is speaking their "lingo".
Create a "win-win" for you and your target audience with greater savings, profits, efficiency and service!
"For the past 6 years, we have been working with Big Picture Web Design and we cannot say enough about how great it is working with Doug. From monitoring our online presence, working on designs for our website, and even making sure our business hours are up to date, he handles it all. We are extremely impressed with how responsive and prompt Doug is with our requests and would highly recommend him to anyone." ~ Just Around The Corner
If you've worked with another web design company in Tennessee but you're not happy, then take advantage of a better, more in depth approach, based in the greater Nashville TN area in Spring Hill. Let's set up a time to discuss your situation. We're dedicated to making sure your project stays on track and meet deadlines. Get a highly detailed project plan with time lines and deliverables. We have weekly check-in meetings during a project, so you know everything is moving along according to plan.
Don't live in Nashville Tennessee? We can easily offer web design services to companies in Brentwood, Franklin, Spring Hill, Columbia etc. Pretty much all of Middle Tennessee. We have easily worked with clients out of state providing inbound marketing to companies in New Jersey, Boston, Kentucky, Ohio, Missouri, Texas and California.
Nashville Web Design Case Studies
Cooper,Travis & Company is a Nashville-based CPA Firm that has been in business since the 80s. They provide tax solutions for Commercial Construction & Real Estate in the Southeast. The Firm is very selective in who they work with and achieve growth primarily via client referrals.
The Firm had a website with an outdated template. This didn't help them get new clients when people came to their Nashville office to talk about their business. The Firm was worried because they could not use this template to show what they do. Now their new mobile-friendly site uses social proof to help them. They also needed logo design and website hosting for their company. They recently added inbound marketing to boost their local presence.
We made it easy for their clients to pass referrals to the Firm on their website. Additionally, their clients can securely upload tax documents. We also added a calendar to show tax deadlines and have a resource section with blog posts and FAQs that clients can refer to.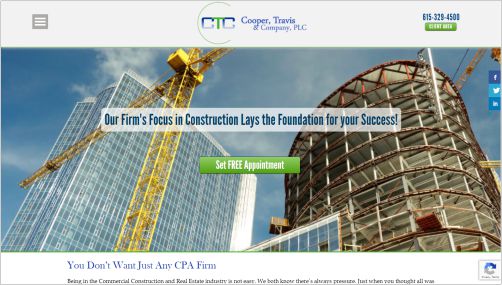 ---
Merchandising Services helps suppliers and retailers with placement, positioning of products, and store support services.
MSCO has expanded to the vast majority of the lower 48 states. Their growth is such that they turned away some of their prospects. Focusing on posting job openings, and the ability for their employees to upload reports for their clients to see.
All supported by the reliability of Linux web hosting.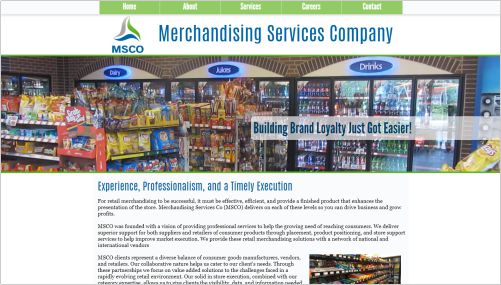 Website Design Is Better With:
If you have a website, you need a reliable host. We offer Hands-free web hosting services! This means that we securely take care of the technical stuff for you.
Pick Plan
Eye catching Logos establish your brand! Professional logo design for print or web. Use this to promote your website design or as a stand alone service.
Stand Out
Local customers are looking for you. Be found where they're looking. Use Nashville inbound marketing to attract more prospects to your new amazing website.
Be Found